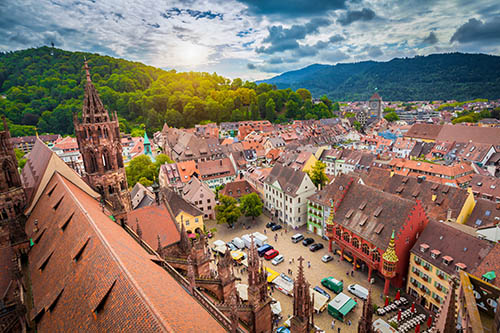 Brief description:
Go for an exchange in your choice of European country: Italy, Austria, Germany, UK, or Finland.
Eligibility:
Faculty of ALES Undergraduate and graduate students, focusing on Forestry, Environmental Conservation Sciences and Environmental Management
Overview:
Go for an exchange in your choice of European country: Italy, Austria, Germany, UK, or Finland. You can also spend one year in one of these countries and get an international dual degree for your masters program in Forestry, Environmental or Conservation Sciences!
Opportunity Details:
Freiburg is a university city with international flavour and close proximity to France and Switzerland. From the scientific point of view, Freiburg's surroundings, the Black Forest and the Rhine Valley, offer many different forest environments and various ways of managing them.
Bangor University is a world class research university. Bangor is located in a breathtaking landscape with panoramic views and is rich with history, culture and charm. Students will join the School of Agricultural & Forest Sciences.
The University of Padua is a premier Italian university, regularly ranked first among Italian institutions. It was founded in 1222 and is the world's fifth-oldest university. It counts Galileo Galilei among its notable faculty and Nicolaus Copernicus among its notable alumni.
The University of Natural Resources and Life Sciences in Vienna is a teaching and research center for renewable resources in Austria. With several campuses in and around Vienna it combines fundamental and applied research to enhance the knowledge basis for sustainable management of natural resources.
The University of Eastern Finland is one of Europe's premier institutions to study forestry, with an emphasis on sustainable use of boreal ecosystems and forest technology. Students will be hosted by Faculty of Forestry.
Official Website:
How to Apply:
Program Information & Contact
For all questions related to eligibility, applying, deadlines, costs and program details,
Undergraduate Students please contact:
Alex Drummond
Department of Renewable Resources
alex.drummond@ualberta.ca
Graduate Students please contact:
Dr Andreas Hamann
Department of Renewable Resources
ahamann@ualberta.ca
Application Deadlines:
---
Contact Email:
Other Contact Information:
Program Information & Contact
For all questions related to eligibility, applying, deadlines, costs and program details,
Undergraduate Students please contact:
Alex Drummond
Department of Renewable Resources
alex.drummond@ualberta.ca
Graduate Students please contact:
Dr Andreas Hamann
Department of Renewable Resources
ahamann@ualberta.ca
Additional Information: